Yoni Eggs 3-pcs Set with 3 Sizes Made of 2 Gemstones, Obsidian and Pink Rose Quartz, with String and User instructions, for Women to Massage Yoni and Train Pelvic Floor Muscles -YETS4751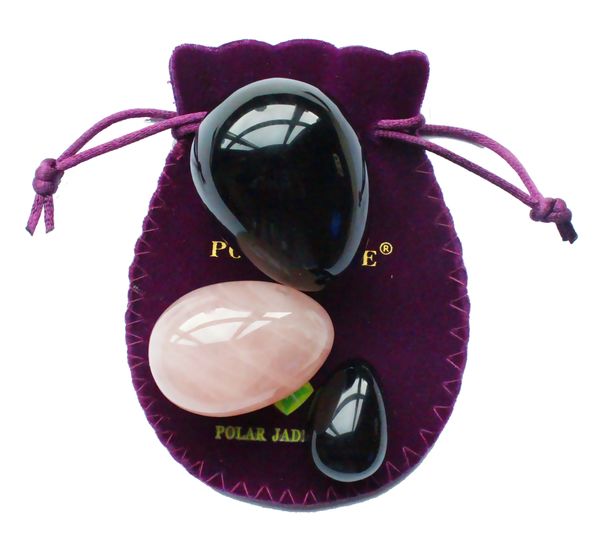 Yoni Eggs 3-pcs Set with 3 Sizes Made of 2 Gemstones, Obsidian and Pink Rose Quartz, with String and User instructions, for Women to Massage Yoni and Train Pelvic Floor Muscles -YETS4751
3-pcs set of 3 sizes with 2 gemstones: rose quartz medium size, obsidian large size and small size. Gorgeous, genuine but more affordable. This is our middle tier eggs set. For high tier eggs, please select our nephrite jade set. 

Comes with certificates of authenticity, jewelry pouches, one box of unwaxed dental floss as retrieval string and user instructions. You have everything with this set to train your love muscles. Perfect for women who look for luxurious, unique and one of a kind yoni eggs set. 

3 sizes made of 2 gemstones: Medium size rose quartz egg (43 x 30mm), large size (50x35mm) and small size (35 x 25mm) obsidian eggs. 

All 3 eggs are sideway drilled at the smaller end of the eggs for retrieval string, very easy to use and to retrieve the egg without worrying about "losing" the egg in your cervix. 

Manually carved and polished with outstanding finishing from 100% natural and genuine gemstones, without any chemical treatment or dyeing. Comes with certificates of authenticity.



Reasons of Recommendations
This set has ALL 3 sizes for ALL levels of users: Large for beginner users,  Medium for intermediate users, and Small for experienced users.




One set with 2 genuine gemstones: black obsidian and rose quartz. Rare, unique and gorgeous but affordable.




Comes with one box of unwaxed & unflavored dental floss as retrieval strings, user instructions, certificates of authenticities, 4 jewelry pouches (3 small jewelry pouches and one large jewelry pouch), you have everything you need to practice jade egg with this set and can start the exercises the same day when you receive this set.




Genuine, and natural. Safe, reliable and healing. Can be used as crystal energy healing eggs in meditation or as beautiful art to decorate your house.
Benefits of yoni eggs for you AND for him:

Strengthening vaginal muscles (love muscles), obtaining stronger orgasm for both you AND him.




Awakening your sexual energy, passion and libido.




With trained and toned love muscles and tightened vagina, your love muscles can better wrap and manipulate his shaft to help him with ejaculation control, to gain much stronger pleasure.




Tightening vagina for women after giving birth.




Counter stress urine incontinence with stronger pelvic floor muscles.

And many more benefits. Please Google "yoni eggs benefits".



3-pcs set eggs with 3 sizes 2 gemstones: rose quartz (medium) and obsidian (large and small). A unique and special set for all beginner, intermediate and advanced users for training pelvic floor muscles (love muscles). One of a kind gift and pleasure toy for yourself or your loved ones. Using this 3 eggs set to training your love muscles to achieve following benefits: stronger love muscles and better yoni health, stress urinary incontinence prevention. We suggest to start with the large obsidian egg first. After your love muscles are trained and become stronger, then switch to the medium size rose quartz egg. After your love muscles are trained to hold smaller egg, then you can switch to the smallest obsidian egg. Please be advised that all 3 eggs are handmade from 100% natural and genuine gemstones, therefore the dimensions and shapes of the 3 eggs are slightly different. Color, tone, shade, texture of the actual eggs may not be exactly the same as the ones showed in the pictures above.
Note:

Rose quartz egg often does not have a continuous look, but shows areas of streaks or cloudy patches (internal cracks) within the stone, or looks somewhat milky due to minute inclusions of foreign substances within the stone. These are NOT defects. Such rose quartz egg is perfectly OK to use.  




If you boil your rose quartz egg, please put your rose quartz into cold water then heat it. Putting rose quartz egg into very hot water may cause cracks on the egg.



Reviews