AISE 1.0 Yoni Wand (Shakti Wand, Pleasure Wand, Gemstone Dildo) Made of 100% Natural Obsidian, Manually Carved and Polished, 17 -21 cm Long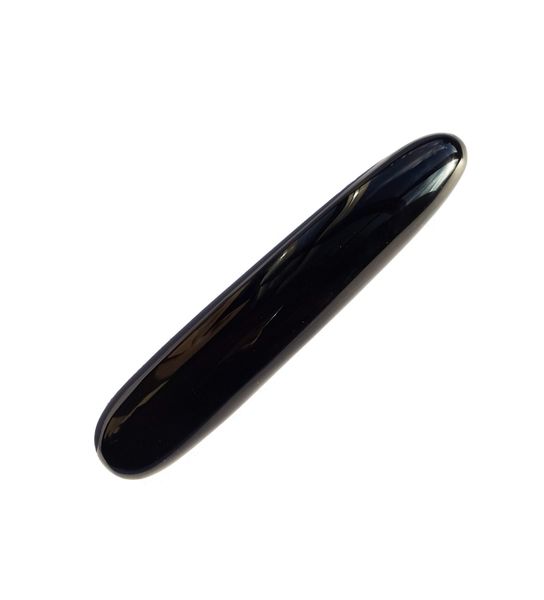 AISE 1.0 Yoni Wand (Shakti Wand, Pleasure Wand, Gemstone Dildo) Made of 100% Natural Obsidian, Manually Carved and Polished, 17 -21 cm Long
1) AISE 1.0 is a straight yoni wand (a gemstone dildo, also called Shakti wand, a sex toy for women) made of 100% natural and genuine obsidian, 20 - 21 cm long,  4cm diameter at the large end, very long and thick. Most yoni wands in the market are 9 - 14 cm long, too short and too thin to use.
2) Manually carved and polished without using any chemical treatment;
3) Comes with a certificate of authenticity and a packing pouch;
4). Obsidian is a natural volcanic glass that can be polished to very fine surface, no porous at all. Obsidian is a much safer material than steel or plastics, because obsidian has fine structure, is NOT porous.
5) Was priced and sold by other sellers at $199, now only $79 (60% OFF).
*Note: AISE is French, meaning joy, pleased, comfortable.

Why obsidian for Shakti wands?
Obsidian is a protective gemstone that shields against negativity, and absorbs harmful energies from the environment. This stone is believed to reduce the pain of arthritis, help joint problems, ease cramp, and aid digestion. This stone can also help in proper blood circulation and ease stomach problems.

Obsidian is also excellent to assist you to release disharmony, resentment, fear and anger that have built up in daily life and work.

Obsidian has powerful metaphysical properties that stimulate growth on all levels. It has an excellent spiritual grounding vibration and strong psychic protection energy, making it an excellent gemstone to use in spiritual and healing works.

Mineral properties of obsidian used for for this Shakti wand:
Obsidian is formed when volcanic lava comes into contact with water. The result is a gemstone cooled so fast that it doesn't have time to crystallize, resulting in a stone with a shiny, glassy texture with smooth and uniform structure.

Mineral formula: 70–75% SiO2 with water, plus MgO, Fe3O4.
Mohs hardness: 5.0 - 6.0
Specific gravity: 2.4 – 2.7
Reflective index: 1.45 – 1.55

How to Clean & Care for Obsidian Product?
Sanitize the obsidian product before your first use. After use, clean, dry, wrap it in a soft cloth, and then store it in the provided pouch.
You can sanitize it by washing it with soap then rinsing thoroughly with clean water.

Certificate of Authenticity
We certify that the obsidian product you purchased are made of 100% natural & genuine obsidian without any dyeing or chemical treatment, and are carved and polished in accordance with recognized industry quality standard and are guaranteed for workmanship.

Reviews