NEW: Set of 3 Yoni Eggs of 3 Sizes and 3 Gemstones, Drilled, with one Box 55 Yards Unwaxed Dental Floss & User Instructions, Made of Nephrite Jade(M), Rose Quartz(S) and Black Obsidian(L), for Pelvic Floor Muscles Massage -YETS4744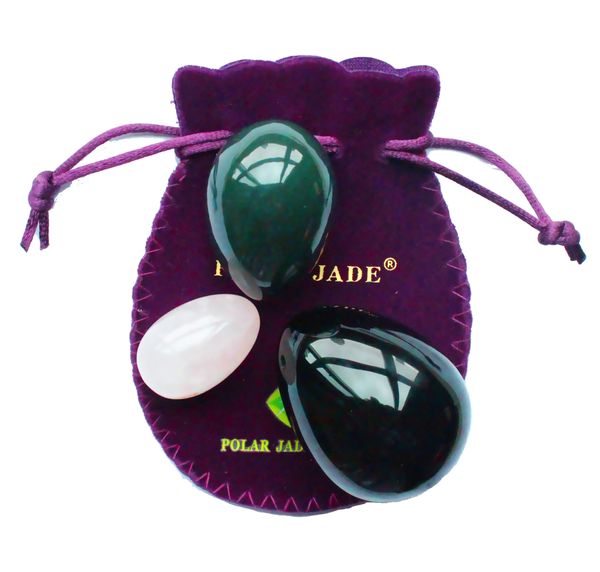 NEW: Set of 3 Yoni Eggs of 3 Sizes and 3 Gemstones, Drilled, with one Box 55 Yards Unwaxed Dental Floss & User Instructions, Made of Nephrite Jade(M), Rose Quartz(S) and Black Obsidian(L), for Pelvic Floor Muscles Massage -YETS4744
Set of 3 eggs with 3 sizes and 3 gemstones: nephrite jade (medium size), rose quartz (small size), and obsidian (large size), very unique and rare 3-pcs st. This set is both a functional set for training pelvic floor muscles and beautiful art. For exercise, decoration display, crystal healing or spiritual purpose

Comes with certificates of authenticity, one box of 55 yards unwaxed & unflavored dental floss as retrieval string, user instructions, and jewelry pouches. You have every thing with this set to start the egg practice the same day when you receive this set.

Excellent and gorgeous set for training pelvic floor muscles, tightening yoni and for crystal healing for all levels of users. No matter you are a beginner user who has weak love muscles or advanced user, this yoni egg set is for you. Excellent gift enjoyable for you and your loved one.

This set has all 3 sizes, all drilled for retrieval string, suitable for all users: Large size (50x35mm), made of obsidian, about 97 grams; Medium size (43 x 30mm), made of rose quartz, about 55 grams; Small size (35x25mm), made of nephrite jade, about 19 grams.

Manually polished, with outstanding finishing. No any chemical treatment or dyeing is used. All 3 gemstones are 100% natural and genuine, and are non-porous, much safer than silicon or metal.

Reasons of Recommendation:
3 gemstones in one set: nephrite jade, rose quartz and black obsidian. Unique and rare, Both functional yoni eggs set and beautiful art for decoration or display at your house.
3 sizes in one set: Large (obsidian) for beginners, Medium (nephrite jade) for all level of users, and Small (rose quartz) for intermediate and advanced users. This set be be used at ALL time for ALL levels and training stages, and can last a life time.
Medium size is made of nephrite jade, the Stone of Heaven, the most luxurious, exquisite and healing stone. Medium size is the most often used size so the BEST stone is used to make this size.
Comes with one box of unwaxed dental floss as the retrieval string, user instructions, 4 jewelry pouches (3 small pouches and one large pouch), and certificates of authenticity. You have everything you need to practice jade egg with this set, and you can start the jade egg training the same day when you receive this set.
Value set, you save $60 with this set. Buying individual egg and unwaxed string costs you much more.
Safe, reliable and TOP quality genuine jade eggs, not like those junk marble stone fake eggs on the market.
Benefits of yoni eggs:

Strengthening pelvic floor muscles (love muscles) to prevent and improve bladder leaking.




Awakening your energy, passion and libido.




Prevent prolapse of bladder and uterine.

And many more benefits. Please Google "yoni eggs benefits".



Product Description
Comes with certificate of authenticity, one box of 55 yards unwaxed & unflavored dental floss as retrieval string, user instructions, and jewelry pouches, this 3-piece set yoni eggs is very unique and rare eggs set that consists of 3 gemstones.  




With 3 sizes, and are different in weight, color and crystal healing properties, you can choose the egg to practice for your mood and exercise level. 




You have every thing with this set to start the practice the same day when you receive this set. We suggest you to start with the large size obsidian egg first. Obsidian is relative lighter in weight than other gemstones, easier to hold and manipulate. After your PC muscles are trained and become stronger, then switch to the medium weight nephrite egg. After your PC muscles are further trained and are flexible and strong, then you can switch to the small size rose quartz egg which is the most challenging one to feel, hold and manipulate. Once you reach this level, you and your partner will feel the difference in your PC muscles. 




This egg set is designed to assist in strengthening the pelvic floor muscles and massage your or your partner's yoni from inside. Regular practice with this egg set allows you to keep yoni alive and brings following benefits: enhanced sensitivity, the ability to contract the yoni muscles around its shape thereby strengthening the walls, prevent and counter stress urinary incontinence. 




1 set with 3 gemstones: Nephrite jade, dark green to black; Rose quartz, pink;  Obsidian, black. 



Because the eggs are manually carved and polished, and also because the hardness and roughness difference among the 3 gemstones, the shape and dimensions of the 3 eggs might be slightly different. This is the nature of manual making from natural stones.
Note:

Rose quartz egg often does not have a continuous look, but shows areas of streaks or cloudy patches (internal cracks) within the stone, or looks somewhat milky due to minute inclusions of foreign substances within the stone. These are NOT defects. Such rose quartz egg is perfectly OK to use.  




If you boil your rose quartz egg, please put your rose quartz into cold water then heat it. Putting rose quartz egg into very hot water may cause cracks on the egg.



Reviews