Set of 2 Gua Sha Facial Massagers of Jade Jade for Skin Care and Skin Rejuvenation, Anti-wrinkles, Anti-Aging Facelift, Skin Tightening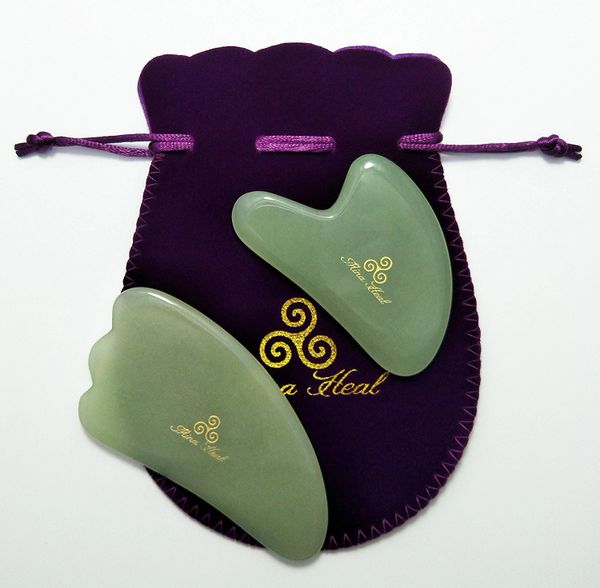 Set of 2 Gua Sha Facial Massagers of Jade Jade for Skin Care and Skin Rejuvenation, Anti-wrinkles, Anti-Aging Facelift, Skin Tightening
JADE GUA SHA FACIAL MASSAGERS: Very easy to use functioning Guasha massagers & scraping tools for women for anti-wrinkles, anti-aging facelift, skin tightening self-treatment.

MULTIPLE POINTS AND EDGES: Use the points and edges of the massagers to increases blood flow and microcirculation in the soft tissue to gain healthy skin, skin detox and rejuvenation.

CHAKRA HEALING GREEN JADE STONE: Made of 100% natural chakra healing green jade aventurine stone. Double effects of massage and healing at the same time.

DESIGN BASED ON TRADITIONAL EXPERIENCE & ERGONOMICS: Beautifully designed based on both experience over 2000+ years and modem ergonomics.

BEAUTIFUL CARRY & STORAGE POUCH: Comes with a beautiful pouch for storing and carrying.
Product description
Set of 2 value pack of Gua Sha facial massagers made of chakra healing green jade stone, for skin rejuvenation, facial wrinkles removal and anti aging massage, trigger point & chiropractic massage, skin care treatments, muscles and joints soreness relax. 

Package include: 2 pieces, value pack
Material: 100% natural green jade (green aventurine)
Color: green
Manufacturing: Handcrafted and manually polished
Finishing: Fine finishing, with very smooth surfaces and edges that will never scratch and hurt your skin or cause bleeding. The highest quality Gua Sha massage tools for facial and skin care and for muscles and joints soreness relax. 

Gua sha is an ancient healing technique used by many clinicians of TCM. In this procedure, a lubricating medium, such as massage oil, is applied to the skin of the area to be treated. A smooth-edged instrument is used by the acupuncturist to apply short or long strokes on the skin, typically in the area of pain or on the back parallel to the spine. This stroking motion creates raised redness (petechiae) or bruising (ecchymosis).

There are several theories that may explain why this ancient technique works: gua sha increases blood flow (microcirculation) in the soft tissue, potentially stimulates the body's natural pain-relieving opioid systems, and it may block the pain response pathways so you feel pain relief.

*Note: This product is made of 100% natural and genuine green aventurine jade stone without ANY chemical treatment or dyeing. There might be natural impurity inclusions forming black or grey lines / bands / spots. Such black or grey lines / bands / spots are absolutely normal in natural stone products, and are signs of natural stones, NOT plastics or glasses.
Reviews