Rose Quartz Yoni Egg (Jade Egg), Side-way Drilled or Nondrilled, Medium Size, Manually Carved & Polished, for Beginner, Intermediate and Advanced Users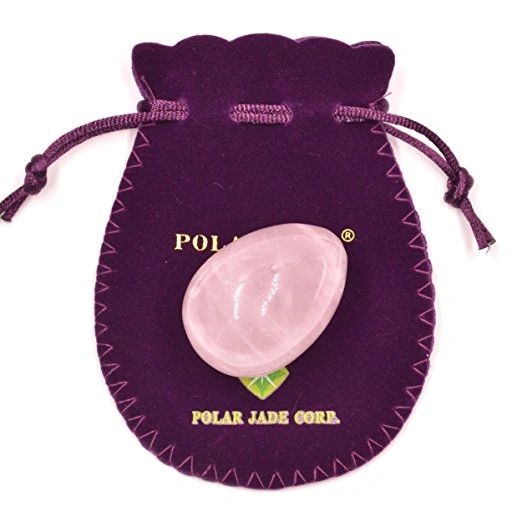 Rose Quartz Yoni Egg (Jade Egg), Side-way Drilled or Nondrilled, Medium Size, Manually Carved & Polished, for Beginner, Intermediate and Advanced Users
1) Yoni egg (jade egg) made of 100% natural and genuine rose quartz;
2) Manually carved and polished without using any chemical treatment;
3) Medium size  (43 x 30mm) (1.7x1.2 inch) for beginner, intermediate and advanced users. Side-way drilled through the egg for retrieval cord;
4) Comes with a jewelry pouch;
5) Free shipping for customers in the US and Canada with USPS's Priority Mail of Canada Post's Tracket Packet with tracking (we do not use cheap shipping options without tracking although the price is much cheaper).

Rose quartz is a quartz crystal that derives its name from its lovely rose pink color. These crystals come in a range of beautiful shades of pink. It is known as the 'love stone' as the message it emits is the strong vibration of unconditional love, joy, warmth and healing.

This beautiful pink crystal rose quartz yoni egg has a powerful energy that resonates within both the heart chakra and the higher heart chakra, or thymus chakra, the area related to compassion.

Yoni eggs, also known as jade eggs,  are egg-shape carved stones used for sexual stimulation and training for the Kegel muscles.

 Usage of yoni egg creates a subtle stimulation, not meant to bring the user to immediate orgasm but rather to tease.

Yoni egg may also be used to simply increase the strength of the pelvic floor muscles, much as Taoist sexual practices has been used for centuries,  and the Kegel exercises are used today. Similar to Kegel exercises, yoni eggs and other shaped vaginal weightlifting equipment are recommended by gynecologists and obstetricians to increase vaginal elasticity and bladder control. Vaginal weights come in a egg or spherical shape and are used in increasing weights to strengthen the vagina, which improves sexual performance. Mild urinary incontinence, such as that which occurs while coughing, laughing, or sneezing and occurs more often as women grow older, can be treated with yoni eggs or Ben Wa balls, vaginal weights, or Kegel exercise.

Practitioners of such spiritual traditions as Tantra and Chinese Taoism believe that yoni eggs are helpful tools to exercise control and to explore the sensual side of an individual.

Disclaimer:
1) This yoni eggs is for intimate use. No return is accepted for obvious reasons.
2) This yoni egg is for kegel exercise, not a substitute for medical treatment. Please discontinue use of this product and consult your physician if you feel any discomfort when use this product.
3) Please note that all of our rose quartz eggs are made of 100% natural and genuine rose quartz without any chemical treatment or dyeing. Some eggs may have, more or less, visible natural blemishes. Each egg is different from the others in terms of color, tone, shade, etc., each egg is unique and is the only one in the world.

Note:

Rose quartz egg often does not have a continuous look, but shows areas of streaks or cloudy patches (internal cracks) within the stone, or looks somewhat milky due to minute inclusions of foreign substances within the stone. These are NOT defects. Such rose quartz egg is perfectly OK to use.  




If you boil your rose quartz egg, please put your rose quartz into cold water then heat it. Putting rose quartz egg into very hot water may cause cracks on the egg.



Reviews