Obsidian Pendant Necklace Italian Cornicello Horn Talisman, with 2 Black Leather Cords 18" and 23", Bella Jade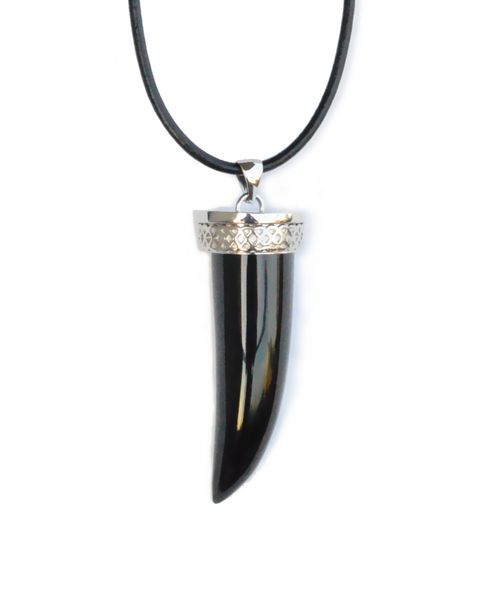 Obsidian Pendant Necklace Italian Cornicello Horn Talisman, with 2 Black Leather Cords 18" and 23", Bella Jade
Product Features
Italian horn pendant necklace with two (2) black leather cords 18" AND 23", for you to choose shorter one or longer one to match with your outfits.




100% natural obsidian gemstone, handmade, without any chemical treatment or dyeing.




This Italian horn (Cornicello) pendant is an amulet and talisman of good luck, for wearing for protection against the evil-eye curse.




Wearing or possession this handmade natural obsidian horn pendant as a protective tool against bad omens and evil, or hang it inside your car or on your bag for protection.




According to some historians, the horn pendant amulet represents a pagan Moon Goddess, who was worshiped in Europe (and in Italy) during the ancient times.



This is an Italian horn pendant necklace, with two (2) black leather pendant cords of 18" AND 23". Depending on your outfits, you may find shorter or longer cord can dramatically change the look of your pendant. You can wear the Italian horn (Cornicello) pendant or hang it in your car or on your bag as a protective tool against bad omens and evil. Coming with a jewelry pouch, the horn pendant is handmade from obsidian stone mined in Mexico. 
100% natural and genuine obsidian pendant necklace, handmade, comes with 2 leather cords and a jewelry pouch. Wearing this pendant necklace or hanging it in your car or on your bag to bring good luck to you. 
Obsidian is a protective stone that shields against negativity, and absorbs harmful energies from the environment. This stone is believed to reduce the pain of arthritis, help joint problems, ease cramp, and aid digestion. This stone can also help in proper blood circulation and ease stomach problems. Obsidian is also excellent to assist you to release disharmony, resentment, fear and anger that have built up in daily life and work. Obsidian has powerful metaphysical properties that stimulate growth on all levels. It has an excellent spiritual grounding vibration and strong psychic protection energy, making it an excellent gemstone to use in spiritual and healing works. Mineral properties of obsidian used for for this yoni egg Obsidian is formed when volcanic lava comes into contact with water. The result is a gemstone cooled so fast that it doesn't have time to crystallize, resulting in a stone with a shiny, glassy texture with smooth and uniform structure. 
Mineral formula: 70-75% SiO2 with water, plus MgO, Fe3O4. 
Mohs hardness: 5.0 - 6.0 
Specific gravity: 2.4 - 2.7.

Reviews