Obsidian Gemstone Ben Wen Balls (Kegel Balls) 2-pcs Set, Undrilled, for Kegel Exercises to Tighten Vagina and Strengthen Love Muscles (Pelvic Floor Muscles)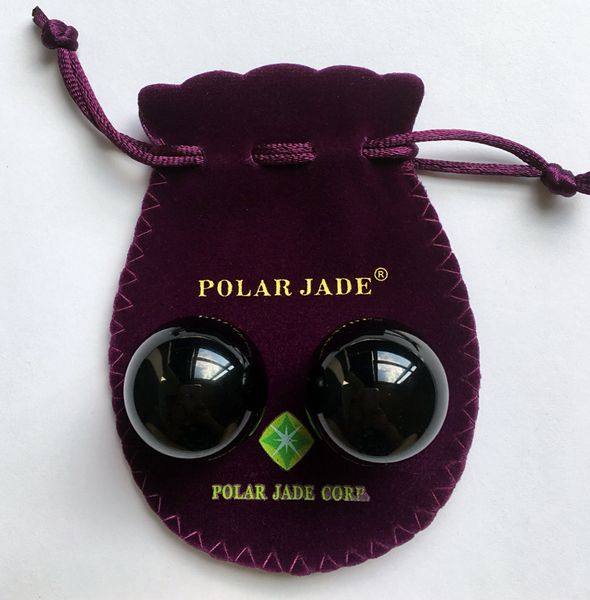 Obsidian Gemstone Ben Wen Balls (Kegel Balls) 2-pcs Set, Undrilled, for Kegel Exercises to Tighten Vagina and Strengthen Love Muscles (Pelvic Floor Muscles)
About the Product
This pair of black obsidian gemstone Ben Wah balls is an excellent gift for yourself or your loved one for toning pelvic floor muscles to reduce urinary incontinence, prevent uterine and bladder prolapse..




Manually polished with outstanding finishing, without any chemical treatment or dyeing. Most Ben Wa balls on the market are made of metal, plastics (silicon) or glass. Obsidian is a protective stone that shields against negativity, and absorbs harmful energies from the environment, a perfect choice for Ben Wa balls.




This beautiful obsidian gemstone is believed to reduce the pain of arthritis, help joint problems, ease cramp, and aid digestion. This stone can also help in proper blood circulation and ease stomach problems. Obsidian is also excellent to assist you to release disharmony, resentment, fear and anger that have built up in daily life and work.




Comes with a packing pouch and certificate of authenticity



2 sizes for your to choose
1) Medium size 25mm (1 inch) diameter, weights about 21 grams (0.72 oz) for one ball. The most popular size for most women.
2) Large size 30mm (1.2 inch) diameter, weights about 36 grams (1.26 oz) for one ball. For beginner users or for women who have weak pelvic floor muscles. Large size is easier to feel and hold.
Product Description
Most Ben Wa balls on the market are made of metal, plastics (silicon) or glass. 
This pair of Ben Wa balls are made of 100% natural and genuine black obsidian gemstone. Ben Wa balls, also known as Burmese bells, Orgasm balls, rin-no-tama, Venus balls or Geisha balls are small balls used for sexual stimulation (by insertion into the vagina). They are used by inserting them into the vagina and using the Kegel muscles to hold them in, stimulating movement and/or vibration. 
Usage of Ben Wa balls creates a subtle stimulation, not meant to bring the user to immediate orgasm but rather to tease. It is possible to leave Ben Wa balls in one's vagina all day, or use them while seated in a rocking chair, for an effect that some find pleasurable. Ben Wa balls may also be used to simply increase the strength of the pelvic floor muscles, much as Taoist sexual practices has been used for centuries, and the Kegel exercises are used today. Similar to Kegel exercises, 
Ben Wa balls and other shaped vaginal weightlifting equipment are recommended by gynecologists and obstetricians to increase vaginal elasticity and bladder control. Vaginal weights come in a spherical shape and are used in increasing weights to strengthen the vagina, which improves sexual performance. Mild urinary incontinence, such as that which occurs while coughing, laughing, or sneezing and occurs more often as women grow older, can be treated with Ben Wa balls, vaginal weights, or Kegel exercise. 
These Ben Wa balls are made of genuine obsidian gemstone. Obsidian is a protective stone that shields against negativity, and absorbs harmful energies from the environment. This stone is believed to reduce the pain of arthritis, help joint problems, ease cramp, and aid digestion. This stone can also help in proper blood circulation and ease stomach problems. Obsidian is also excellent to assist you to release disharmony, resentment, fear and anger that have built up in daily life and work. 
Note: 
This pair of Ben Wa balls are undrilled, very easy to clean. Because  there is no retrieval cord, these Ben Wa balls are for advanced users or should only be used if you are confident you will be able to retrieve them after practice. You should be able remove the balls easily by standing up and jumping or coughing. 


Don't wear metal or plastics, wear genuine black obsidian gemstone Ben Wa balls.
Reviews