Nephrite Jade Yoni Egg and Rose Quartz Kegel Balls Bundle, for Women to Strengthen Pelvic Floor Muscles to Prevent Prolapse of Uterine and Bladder and Reduce Incontinence, Polar Jade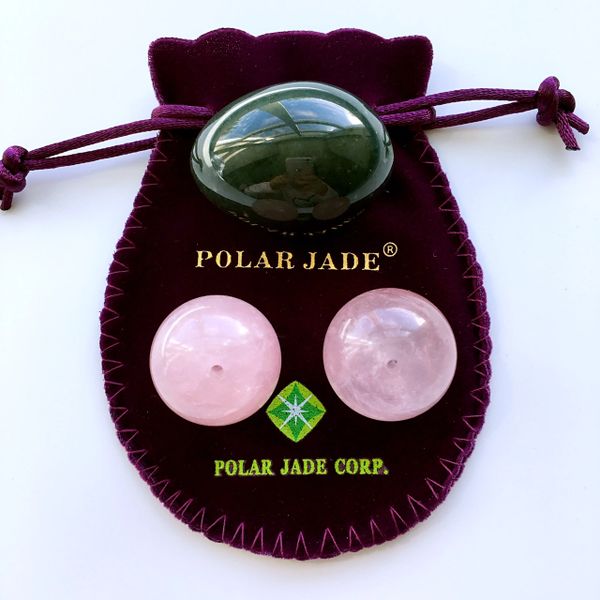 Nephrite Jade Yoni Egg and Rose Quartz Kegel Balls Bundle, for Women to Strengthen Pelvic Floor Muscles to Prevent Prolapse of Uterine and Bladder and Reduce Incontinence, Polar Jade
2 PRODUCTS BUNDLE FOR KEGELS: Nephrite jade yoni egg and pair of kegel balls. Manually crafted and polished from 100% natural nephrite jade and rose quartz gemstones respectively without using any chemical treatment.

GENUINE NEPHRITE JADE EGG FOR MOST WOMEN: The nephrite jade egg is medium size (43 x 30mm, 1.7 x 1.2 inch), about 58 grams (2,0 ounces), predrilled.

KEGEL BALLS MADE OF LOVE STONE: The pair of kegel balls are made of 100% natural rose quartz, with 25mm (1 inch) diameter. predrilled

SAFE AND EASY TO USE DISPOSABLE REMOVAL STRING: 

CERTIFIED: Comes with certificates of authenticity and beautiful purple velvet storage pouches. Excellent gift for yourself or your loved one for kegel exercisers to strength love muscles
What you get?
1) One genuine nephrite jade yoni egg, medium size (43 x 30mm), predrilled; 
2) One pair of kegel balls made of rose quartz, with 25mm (1 inch) diameter, predrilled;
3) Certificates of authenticity;
4) One beautiful storage pouch for the egg and one pouch for the kegel balls.
Why nephrite jade for yoni egg? 
Nephrite jade is a powerful healing stone that helps amplify body's natural self-healing capacity. It is proven scientifically that nephrite radiates far-infrared rays, which bring beneficial effects on human body, especially on skin, blood circulation and skin cell vitalizing. Nephrite jade is particularly helpful for healing kidney, stomach, arthritis, bladder, joints and stiffness complains. 
Why Rose Quartz for the kegel balls? 
Rose quartz is a quartz crystal that derives its name from its lovely rose pink color. These crystals come in a range of beautiful shades of pink. It is known as the 'love stone' as the message it emits is the strong vibration of unconditional love, joy, warmth and healing. This pair of beautiful pink crystal rose quartz balls has a powerful energy that resonates within both the heart chakra and the higher heart chakra, or thymus chakra, the area related to compassion.
Why unwaxed & unflavored dental floss?
The unwaxed & unflavored dental floss is provided for use as the disposable removal string. Safe, clean and easy to use. When you do not need the removal string after your love muscles are trained stronger, you can wear the egg or balls without the string. 
Please note this yoni egg and kegel balls are made of 100% natural nephrite jade and rose quartz gemstones respectively without using any dyeing or chemical treatment, there might be natural inclusions and blemishes. Such inclusions and blemishes are NOT workmanship defects. The color of the nephrite jade is dark green or black, and cannot be specified.
Reviews