Nephrite Jade Egg, Medium, Drilled, with Unwaxed String and Instructons, for All Levels of Users For Yoni Massage, PC Muscles Training, or as Beautiful Art to Display or Decoration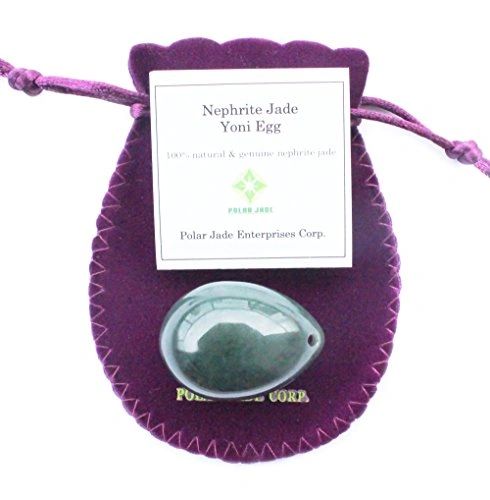 Nephrite Jade Egg, Medium, Drilled, with Unwaxed String and Instructons, for All Levels of Users For Yoni Massage, PC Muscles Training, or as Beautiful Art to Display or Decoration
LUXURY NEPHRITE EGG, CAN LAST A LIFE TIME: The most luxurious and exquisite nephrite egg for ALL users with different experience levels. Nephrite jade is considered in Asia "The Stone of Heaven" that has held a special attraction for mankind for thousands of years. The "jade egg" used in ancient royal courts of China was nephrite jade, the "royal gem.




HAVE EVERY THING FOR KEGEL: Comes with 1) one genuine nephrite jade egg, 2) one box 50 meters of unwaxed & unflavored dental floss as retrieval string, 3) user instructions, 4) certificates of authenticity, and 5) one beautiful purple jewelry pouch. The unwaxed floss and the pouch can be used in vaginal weight-lifting as well.




MOST POPULAR SIZE: Medium size (1.7x1.2 inch) (43mm x 30mm), sideway (horizontally) drilled at the smaller end of the egg. This is the most popular size for everyone, from beginner users to advanced users.




GENUINE & CERTIFIED: This jade egg is made of 100% natural and genuine nephrite jade without any chemical treatment. Comes with a certificate of authenticity to ensure its authenticity and top workmanship quality.




SAFE & HEALING: Nephrite jade is very dense, solid , and non-porous, is the BEST material for this intimate usage. Nephrite jade is also the most well-known and proven powerful healing stone.






What You Get?

1) One genuine nephrite jade egg, medium size, predrilled;

2) One box 55 yards of unwaxed & unflavored dental floss for use as retrieval string;

3) User instructions;

4) Certificate of authenticity: and

5) One beautiful purple velvet jewelry pouch.

Product Description:

1) Made of nephrite jade, the most luxurious, exquisite and healing stone, which is unique and rare, Both functional yoni egg and beautiful art for decoration or display at your house.

2) This medium size can be used at ALL time for ALL levels and training stages, and can last a life time.

3) Comes with one box of unwaxed dental floss of 55 yards as the retrieval string, user instructions, jewelry pouch, and certificate of authenticity. You have everything you need to practice jade egg with this one, and you can start the jade egg training the same day when you receive this egg.

4) Safe, reliable and TOP quality genuine jade egg, not like those junk marble stone fake eggs on the market.

5) Nephrite jade is a powerful healing stone that helps amplify body's natural self-healing capacity. It is proven scientifically that nephrite radiates far-infrared rays, which bring beneficial effects on human body, especially on skin, blood circulation and skin cell vitalizing. Nephrite jade is particularly helpful for healing kidney, stomach, arthritis, bladder, joints and stiffness complains. The name "nephrite" is from Greek "nephros", which means kidney with reference to its benefits in treating kidney diseases.

In Chinese culture, nephrite jade is considered the Stone of Heaven. The jade egg used in Taoist practice since ancient time was nephrite.

Nephrite jade is very dense and pure. Nephrite has a tightly packed interwoven fibrous structure that makes it very tough, strong and dense, preventing any harmful impurities and bacteria from diffusing inside. This makes it a perfect choice as yoni egg.
Reviews