Himalayan Pink Salt Lamp Natural Shape on Genuine Neem Wood Base, with 2 Light Bulbs, 5 to 9 Inches Height, Weights 5 to 9 Pounds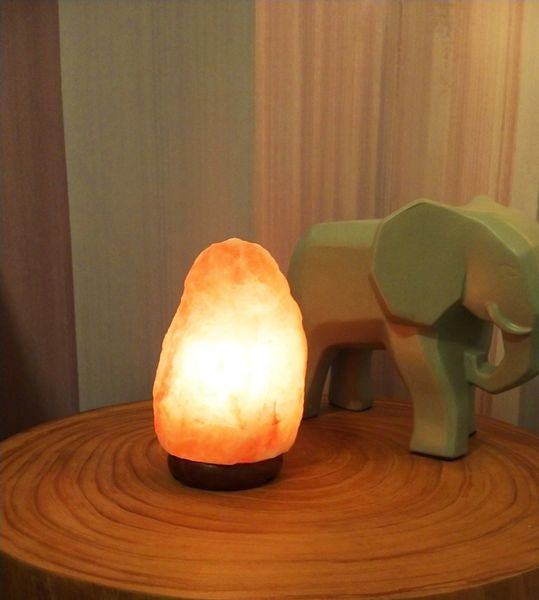 Himalayan Pink Salt Lamp Natural Shape on Genuine Neem Wood Base, with 2 Light Bulbs, 5 to 9 Inches Height, Weights 5 to 9 Pounds
NEW LAUNCH - Unique Himalayan salt crystal lamp made from pink / orange salt crystal rock from Himalayan Mountains.

Natural shape, truly one-of-a-kind, each one is the ONLY one in the world. This pink salt lamp gives a warm amber glow, great to provide a gentle nightlight, or to create a romantic mood.

This is the BEST quality Himalayan salt lamp from Pakistan, with the salt rock mined in the Himalayan Mountains, handcrafted.

This Himalayan salt lamp can enhance the ionic balance of your living spaces because it emits negative ions that fight against electromagnetic radiation. The naturally ionized air also helps you sleep better at night, allowing you to wake refreshed.

A beautiful home deco that is perfect for you to design your conscious home, put it in the center of a coffee table, bedside table and also great for meditation, healing and yoga spaces.
Product description
Genuine and natural Himalayan salt crystal lamp, about 5 to 9 inches tall, weights 5 to 9 pounds.
On genuine Neem wood base.
Comes with 2 light bulbs (one is spare).

Great for bedrooms, offices, spas, living rooms, meditation, healing, and yoga spaces.

Himalayan salt is often said to be the most beneficial as well as the cleanest salt available on this planet today. It has all kinds of nutritional and therapeutic properties.

What Is Himalayan Salt?
Himalayan salt is a truly unique salt. It's also referred to as pink salt, Himalayan sea salt, rock salt and Himalayan crystal salt. This salt is classified as rock salt or halite, which comes from the Punjab region of Pakistan about 190 miles from the Himalayas. This region has one of the richest salt fields in the entire world, and they are very, very old, about 300 million years old. Himalayan salt is believed to be composed of dried remnants of the original, primal sea.

Top 5 Benefits of Pink Himalayan Salt:
1. Improves Respiratory Problems
2. Balances Body's pH
3. Natural Digestive Aid
4. Air Purifier
5. Better Sleep Inducer

When you turn on the lamp, the bulb heats up the salt and release the negative ions in the air. The positive ions are neutralized from the air around you. The Himalayan salt lamp can help you relieve headaches, migraines, arthritis, respiratory illness, blood pressure problems and stress related problems.
Reviews