AISE 2.0 Curved Yoni Wand, Regular Size, Black Obsidian, Pleasure Toy for Women, Both a Functional Gemstone Dildo and an Art, for Sole Play or Couple Play, or for Crystal Healing, Massage or Display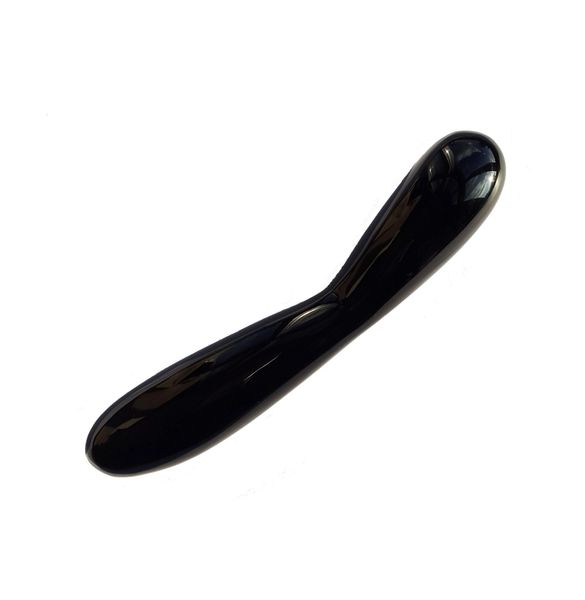 AISE 2.0 Curved Yoni Wand, Regular Size, Black Obsidian, Pleasure Toy for Women, Both a Functional Gemstone Dildo and an Art, for Sole Play or Couple Play, or for Crystal Healing, Massage or Display
PRODUCT FEATURES AND BENEFITS:
1) AISE 2.0 yoni wand (gemstone dildo, also called Shakti wand), regular size, the most popular size for most women, made of 100% natural and genuine black obsidian, beautifully designed and masterfully carved non-vibrating dildo with double ends, for solo or couple play.
We also have large size or extra large for size queens. Please search "large size AISE" in this site or contact us.
2) This one-of-a-kind AISE 2.0 gemstone dildo is slightly bent with flowing curves and a G-spot stimulation head, designed and manually carved and polished to pleasure both the eyes and the body.

3) AISE 2.0 is both a functional dildo and art, for solo play and couple play, or as a sculpture art to be displayed at your house, or for spiritual and healing, or for massage purposes as obsidian is said to shield against negativity and give off grounding vibrations.

4) Combining the beautiful design, masterful carving and healing power of the genuine black obsidian gemstone, AISE 2.0 dildo is a toy designed to give you pleasure for both your body and your eyes, and can last a lifetime.

5) This gemstone dildo is polished so fine so smooth that the requirement of lubrication is minimal and any lubricant you use will last a long way. You can use ANY type of lubricants, no matter water-based, oil-based or silicone-based lubricants. This is particularly important for those who are sensitive to intimate lubricants.

6) Obsidian is a volcanic mineral rock. Gemstone quality of obsidian is dense, solid and non-porous, and is inert towards any type of lubricants, soaps, or detergents, even at high temperature, making it a much safer material than silicon, metals, or woods.

7) Comes with a certificate of authenticity and a beautiful violet packing pouch;

AISE is a French word, meaning joy, pleased, or comfortable.

MATERIAL:
100% natural and genuine black obsidian

DIMENSIONS AND WEIGHT OF THE GEMSTONE DILDO:
Length: 20 - 22cm (7.9 - 8.6 inch)

Circumference (girth):
- 13cm (5 inch) at the largest part of the G-spot head;
- 12cm (4.7inch) at the largest part of the another end;

Diameter:
- 4.0cm (1.6 inch) at the largest part of the G-spot head;
- 3.8cm (1.4 inch) at the largest part of the another end;

Weight:
About 450 grams (1lb)

Note 1:
This is a regular size gemstone dildo that is the most popular size for most women, because its circumference (girth) is similar to the average size penis. 

Note 2:
The dimensions and weight above are approximate and for reference only. Because the dildos are manually carved from 100% natural obsidian gemstone, each dildo is slightly different from the others in terms of dimensions, weight, shape, tone, etc.

Note 3:
Average erect penile length is14.2 cm (5.6 inch).
Average erect penile circumference (girth) is 12.2 cm (4.8 inch), diameter is 3.9cm (1.5inch)


WHY OBSIDIAN FOR AISE SHAKTI WANDS (GEMSTONE DILDO)?
Obsidian is a protective gemstone that shields against negativity, and absorbs harmful energies from the environment. This stone is believed to reduce the pain of arthritis, help joint problems, ease cramp, and aid digestion. This stone can also help in proper blood circulation and ease stomach problems.

Obsidian is also excellent to assist you to release disharmony, resentment, fear and anger that have built up in daily life and work.

Obsidian has powerful metaphysical properties that stimulate growth on all levels. It has an excellent spiritual grounding vibration and strong psychic protection energy, making it an excellent gemstone to use in spiritual and healing works.

Mineral properties of obsidian used for for this Shakti wand:
Obsidian is formed when volcanic lava comes into contact with water. The result is a gemstone cooled so fast that it doesn't have time to crystallize, resulting in a stone with a shiny, glassy texture with smooth and uniform structure.

Mineral formula: 70–75% SiO2 with water, plus MgO, Fe3O4.
Mohs hardness: 5.0 - 6.0
Specific gravity: 2.4 – 2.7
Reflective index: 1.45 – 1.55

HOW TO CLEAN & CARE FOR OBSIDIAN PRODUCT?
Sanitize the obsidian product before your first use. After use, clean, dry, wrap it in a soft cloth, and then store it in the provided pouch.
You can sanitize it by washing it with soap then rinsing thoroughly with clean water.

CERTIFICATE OF AUTHENTICITY:
We certify that the obsidian product you purchased is made of 100% natural & genuine obsidian without any dyeing or chemical treatment, and is carved and polished in accordance with recognized industry quality standard and is guaranteed for workmanship.

Reviews