FREE (With order over $50) Chakra Healing Crystals Set of 8, Tumbled and Polished, for 7 Chakras Balancing, Crystal Therapy, Meditation, Reiki, or as Thumb Stones, Palm Stones, Worry Stones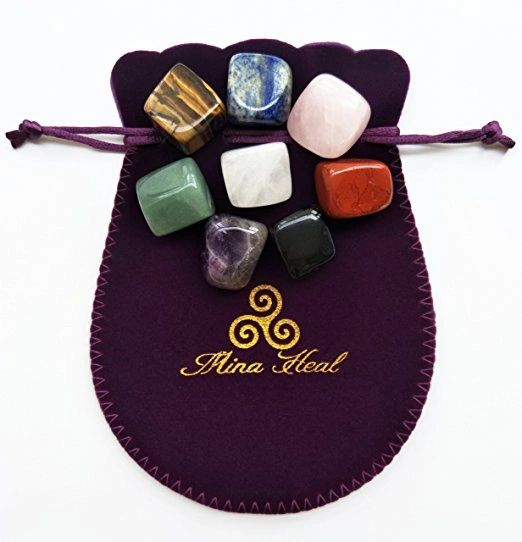 FREE (With order over $50) Chakra Healing Crystals Set of 8, Tumbled and Polished, for 7 Chakras Balancing, Crystal Therapy, Meditation, Reiki, or as Thumb Stones, Palm Stones, Worry Stones
IMPORTANT: This item is FREE only with your purchase over $50. We will not dispatch if you only purchase this one. Thank you!
Product description

You get:
Set of 8 gemstones, tumbled and well polished: 
1) Green: Aventurine
2) Pink: Rose Quartz
3) Red: Red Jasper
4) Brown: Tiger's Eye
5) Purple: Amethyst
6) Black: Obsidian
7) Blue: Lapis Lazuli
8) White: Clear Quartz

A beautiful purple velvet pouch for storage and carrying is also included in your package.

100% natural and genuine. These 8 natural stones (crystals, quartz) are smooth, soothing, and full of potent stone energies. Each crystal stone is irregular natural shape, approximately .65" - 1.4" (16 - 35mm), right size to fit in the palm of a hand yet powerful enough to absorb creeping anxiety and other negative feelings, and bring enlightenment along with empowerment to body, mind and spirit. 

They're great pocket stones, and they make a meaningful gift.

What for?
Best for healing, 7 chakras balancing (1 extra stone), positive energy, meditation, sound sleep, gift and many more applications. They can be used in many different methods of healing. They can be used to heal the entire body or aura, or they can be used on a specific area of the body, or on a particular chakra. Removes all bad energy, evil forces, negativity, wrong choice.

Best suited for health, wealth, progress, prosperity, family bonding, long lasting relationship. stress relief, crystal therapy, good luck, fortune, self esteem.

Other Benefits 
Enhances awareness visualization, intuition, psychic abilities. 
Enhances happier moods very noticeable. 
Clear's negative entities.

Note:
1) Because this product is made of natural & genuine stone, it may contain natural pits, fissures or inclusions. Variations in color, tone, shade, etc. should be expected and viewed as individuality and beauty. 
Reviews