Butterfly Pendant Necklace of Green Nephrite Jade & Cubic Zirconia in Sterling Silver on 18" Chain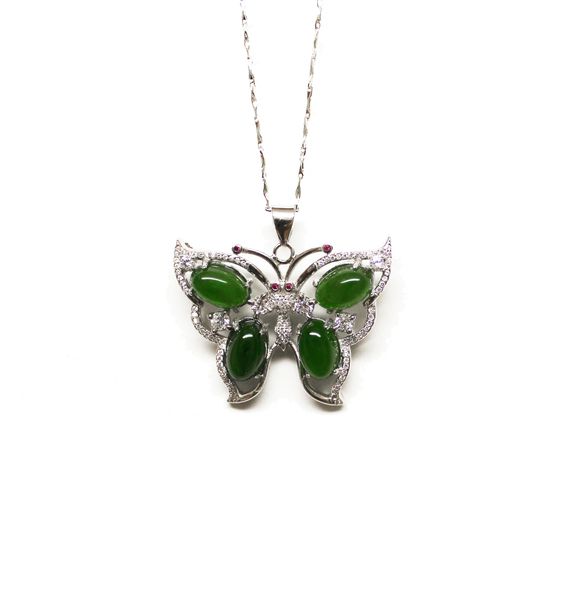 Butterfly Pendant Necklace of Green Nephrite Jade & Cubic Zirconia in Sterling Silver on 18" Chain
4 green nephrite jade stones, each is about 3.6 carats (4 x 3.6 carats) and about 7x11mm in dimensions.

Beautifully set on a 925 sterling silver frame that is about 8.8 grams, together with cubic zirconia crystals as accessory stones, making this beautiful pendant necklace a gorgeous and one of a kind gift for yourself or any whimsical woman.

The 4 genuine green nephrite jade stones are manually carved and polished, without any chemical treatment, heat-treatment or dyeing, 100% natural and genuine.

Comes with an 18" sterling silver Ingot chain, and a jewelry box.

If you're looking for a necklace with 100% natural and genuine green nephrite jade that speaks to personal style, this is the one for you.
A gorgeous gift for yourself or your sweetheart, this 4-stone butterfly pendant necklace gives off a loving glow. Set in sterling silver, this is a fine jewelry that works for special occasions or everyday beauty. Nephrite jade is considered "the stone of heaven" and has been cherished for millennia. The 4 stones of this pendant necklace are made of very rare top quality green nephrite jade, manually carved and polished with stunning excellency of workmanship. Each jade stone is about 7x11mm in dimensions and is about 3.65 carats, making a total of 14.6 carats. Beautifully set on a sterling silver frame of about 8.8 grams with cubic zirconia crystals as accessory stones, coming with an 18" length sterling silver Ingot chain, so that the butterfly pendant drapes around the neck to rest gently at the collarbone. Combining with the Rhinestone crystal as the accessory stones, this gorgeous genuine green nephrite jade butterfly pendant necklace is easily complement both formal and casual attire.
Reviews