Artificial Rose Flowers for Home Office Arrangements Party Decorations Wedding Bridal Bouquets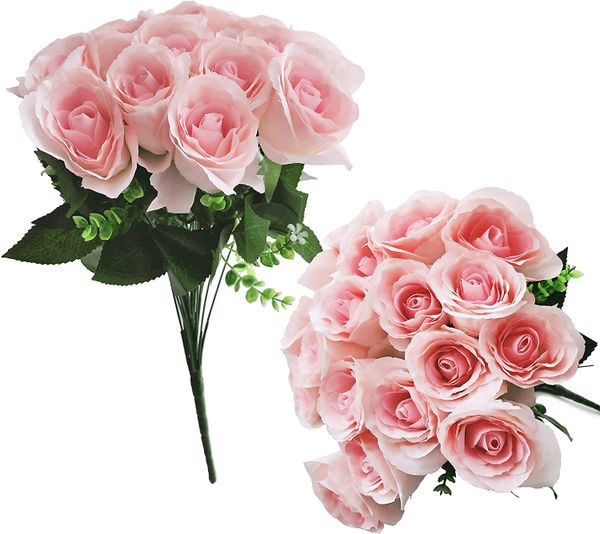 Artificial Rose Flowers for Home Office Arrangements Party Decorations Wedding Bridal Bouquets
Elegant artificial rose flower bouquet, 18 heads. Pink.

Great decor for kitchen, living room, dining table, bedroom, coffer table, hallway, or for bridal bouquet, wedding parties, holiday deco.

Made of silk cloth (flower pedals) and plastic (stems and branches).

Total length about 20" / 50 cm, flower head diameter about 3.1" / 8cm. The stems can be bent to fit your vase.

Long lasting, maintanance free, hypoallergenic, and cost effectve. Never wither nor fade elegant rose flowers.
Even if you don't have time to tend to your plants, you still can add flowers to your home and event décor, to bring natural freshness and radiant aesthetics that helps not only add celebratory colors to your space, but also help maintain an upbeat mood.
This extremely life-like faux rose flower bouquet is the solution.

This faux flower bouquet replicates the natural charm and delicate beauty of real rose flowers. From your house to weddings, using this artificial flower decoration approach adds style and elegance to special events and home decor.

Benefits of this faux flowers:
- Extremely life-like
- Low-maintenance
- Flowers all year round
- Eternally beautiful
- Inexpensive and affordable
- Hassle-free
- Allergen-free
- Creativity friendly

This artificial flower bouquet is a form of art!

Reviews