Amulet Agate Pendant Necklace, Italian Cornicelli Horn Corno, with 2 Black Leather Cords 19.5" & 23", Bella Jade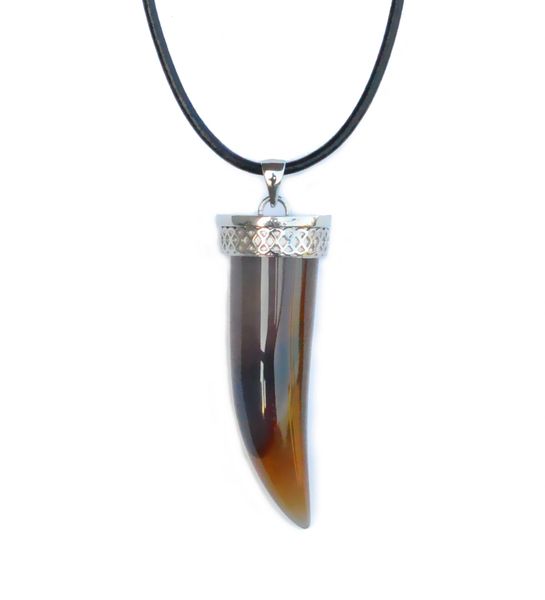 Amulet Agate Pendant Necklace, Italian Cornicelli Horn Corno, with 2 Black Leather Cords 19.5" & 23", Bella Jade
Product Features
Italian horn pendant necklace with two (2) black leather pendant cords, 19.5" and 23". You can choose the length of the cord to wear, to match with your outfit style.




100% natural agate stone, handmade, without any chemical treatment or dyeing.




This Italian horn (Cornicello) pendant is an amulet and talisman of good luck, for wearing for protection against the evil-eye curse.




Wearing or possession this handmade natural agate horn pendant as a protective tool against bad omens and evil, or hang it inside your car or on your bag for protection.




According to some historians, the horn pendant amulet represents a pagan Moon Goddess, who was worshiped in Europe (and in Italy) during the ancient times.



This is an Italian horn pendant necklace, with 2 black leather pendant cords of 19.5" and 23". You can match the length of the Italian horn (Cornicello) pendant with your outfits, or you can hang it in your car or on your bag as a protective tool against bad omens and evil. Coming with a jewelry pouch, the horn pendant is handmade from agate stone mined in Brazil. 
Agate is a cryptocrystalline variety of silica, chiefly chalcedony, characterised by its fineness of grain and brightness of color. The stone was given its name by Theophrastus, a Greek philosopher and naturalist, who discovered the stone along the shore line of the river Achates in present-day Sicily,sometime between the 4th and 3rd centuries BC. Colorful agates and other chalcedonies were obtained over 3,000 years ago from the Achates River, now called Dirillo. Agate is one of the most common materials used in the art of hardstone carving, and has been recovered at a number of ancient sites, indicating its widespread use in the ancient world; for example, archaeological recovery at the Knossos site on Crete illustrates its role in Bronze Age Minoan culture. 
100% natural and genuine agate pendant necklace, handmade, comes with 2 black leather cords and jewelry pouch. Wearing this pendant necklace or hanging it in your car or on your bag to bring good luck to you. 
Due to the variations in natural gemstones and hand making process, the product you receive may not look exactly the same as seen in the pictures on your computer screen. Each natural stone product is unique, is one-of-a-kind.
Reviews