8 PCS Chakra Stones and 1-PCS Jade Gua Sha Facial Massager, for 7 Chakras Grounding Balancing or as Worry Stones, Hot Spa Rock & Wrinkle Removal Anti-aging Massage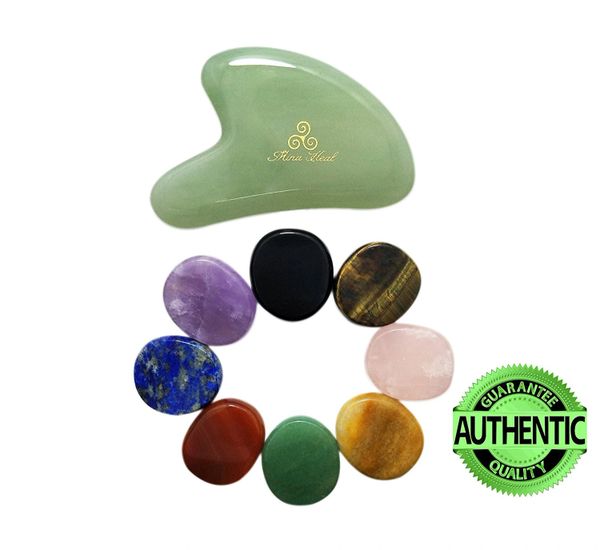 8 PCS Chakra Stones and 1-PCS Jade Gua Sha Facial Massager, for 7 Chakras Grounding Balancing or as Worry Stones, Hot Spa Rock & Wrinkle Removal Anti-aging Massage
VALUE PACK: Green jade stone Gua Sha plate facial massager and 8-pcs oval shaped Chakra stones kit. Good value pack healing crystals kit.

FUNCTIONING FACIAL MASSAGER: The jade stone Gua Sha massager is excellent for women for anti-aging / anti-wrinkle self facial massage, trigger point & chiropractic treatment to increases skin surface microperfusion and blood circulation.

EXCELLENT CRYSTAL HEALER: The 8-pcs oval shape chakra stones are well tumbled and polished. Good for 7 Chakras balancing stones ( you have 1 extra stone), soothing stones, palm stones, thumb stones, hot spa rocks, or in Reiki, massage or decoration. Excellent stress relievers.

GREAT GIFT: This bundle makes great gifts to women in love of natural crystals and crystal therapy / healing. Excellent value pack for those who love crystals, crystal healing, and crystal therapy

RISK FREE: If you are not fully satisfied with your purchase, you can return it for a full refund. No question asked. Risk FREE for you
roduct description
Value pack of jade stone Gua Sha anti-aging / anti-wrinkle facial massager and set of 8 Chakra stones kit for crystal healing meditation.

You get:
1 piece Gua Sha facial massager made of natural green aventurine jade stone, for anti-aging / anti-wrinkle facial massage. 

Set of 8 gemstones, tumbled and well polished, oval shape: 
1) Green: Aventurine
2) Pink: Rose Quartz
3) Yellow: Yellow Calcite
4) Brown: Tiger's Eye
5) Purple: Amethyst
6) Black: Obsidian
7) Blue: Lapis Lazuli
8) Red: Red Jasper

Beautiful purple velvet jewelry pouches for storage and carrying are also included in your package.

About the jade stone Gua Sha massager:
This Gua Sha plate massager is made of 100% natural chakra healing green aventurine jade stone. Beautifully designed based on both experience over 2000+ years and modem ergonomics.You can use the points and edges of this tool to increases blood flow (microcirculation) in the soft tissues of your face, arms, legs, shoulder, neck to gain healthy skin.

About the 8-PCS Chakra stones
100% natural and genuine. These 8 natural stones (crystals, quartz) are smooth, soothing, and full of potent stone energies. Each crystal stone is approximately 30 x 20 x 7.5mm, right size to fit in the palm of a hand yet powerful enough to absorb creeping anxiety and other negative feelings. 

What for?
Jade stone Gua Sha massager: A functioning facial massager & scraping tool for women for self facial anti-aging / anti-wrinkle massages, trigger point & chiropractic treatment on arms, legs, shoulder, neck to increases skin surface microperfusion and blood circulation to gain healthier skin.

8-pcs oval shaped chakra stones: Good for crystal healing, 7 chakras balancing (you get 1 extra stone), positive energy, meditation, sound sleep, worry stones, and gift.
Reviews