Mina Heal Crystal Stone Money Tree-Aquamarine Stone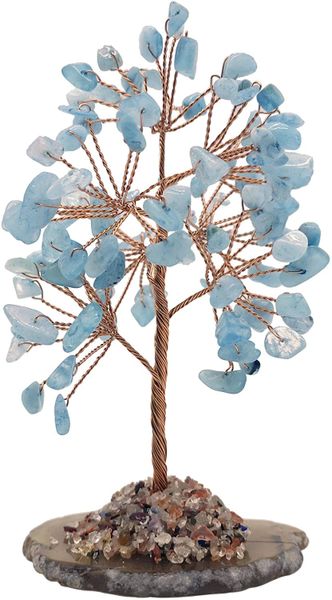 Mina Heal Crystal Stone Money Tree-Aquamarine Stone
It is a Crystal Stone Tree for Chakra Healing & Feng Shui, to Bring Fortune Good Luck Wealth & Prosperity
The crystal gem tree is a small tree made of semi precious stone and crystals for Feng Shui cure for wealth. This gemstone crystal tree is a good decor for home, office or anywhere to create a strong healing vibration and clear the atmosphere of negative energies.
Aquamarine Stone
Aquamarine heals emotional trauma, cools high temper and conflict., relieves stressm helps get in touch with suppressed emotions, brings peace, clears the mind, and calms the heart.
Use this healing stone trees for Feng Shui cure in following areas:
Attract more financial wealth

Improve romantic love life

Promote physical well being

Heighten your spiritual growth

Increase creativity

Develop fame and notoriety

Advance in your career
Product Features:
Elegant natural light blue aquamarine crystal money tree for Feng Shui and Chakra healing

Add this gem stone money tree to your living room, bed room, hallway, your coffee table, desk to gain natural crystal benefits

Use this crystal tree to bring home fortune, good Luck, prosperity health and to remove negative energies

Made of 100% natural crystal stones, copper wires and agate stone (base)

Long lasting, maintanance free, hypoallergenic, never wither nor fade one-of-a-kind artificial bonsai tree
Features of these Chakra healing crystal stone trees:
Extremely life-like

Low-maintenance

Flowers all year round

Eternally beautiful

Inexpensive and affordable

Hassle-free

Allergen-free

Creativity-friendly
Benefits of Chakra Crystal Healing Trees: 
healing powers of crystal stone trees always bless you. Chakra healing energy improves intellect power, creativity and self-respect. It brings good luck to your life, enhance the emotional and physical balance and remove the fear and anxiety.
A Chakra healing crystal tree represents stability as well as the overall growth in life. And it mends the wounded emotions and strengthens the emotional heart to face the ups and downs of the life.
Reviews