Set of 7 Chakra Healing Crystal Wands Point Faceted Prism Bars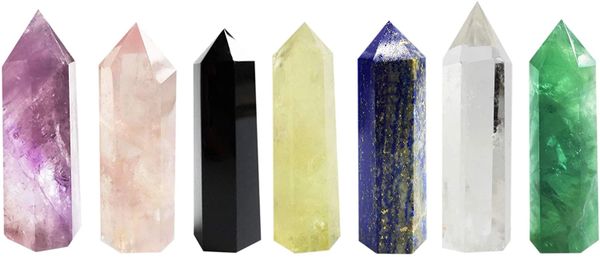 Set of 7 Chakra Healing Crystal Wands Point Faceted Prism Bars
These are 100% natural and genuine healing crystal wands, faceted, with one end pointed and another end flattened.
This lovely rose quartz wand, with its gentle pink essence, is a stone of the heart. It carries a soft feminine energy of compassion and peace, tenderness and healing, nourishment and comfort. Rose quartz is the so-called Love Stone that opens the Heart Chakra to let love flow.
Green fluorite is a crystal stone that is related to Heart Chakra and increases our powers of concentration, self-confidence and helps us in decision-making. It encourages positivity, balances the energies, and improves balance and coordination, both physically and mentally.
Clear quartz is a birthstone for all zodiac signs and is a gemstone for the Crown Chakra. Clear quartz has been shown to enhance and strengthen the aura and is often used to cleanse, open, activate, and align all of the Chakras.
Amethyst is a February birthstone and 6th anniversary gemstone. Amethyst is a birthstone for the zodiac signs of Virgo, Sagittarius, Capricorn, Aquarius and Pisces. Amethyst is a gemstone for the third eye Chakra and Crown Chakra.
Tiger eye crystal is a birthstone for the zodiac sign of Capricorn. It is an 18th anniversary gemstone. Tiger's eye is a gemstone for the Sacral Chakra and Solar Plexus Chakra.Tiger's eye stone is a powerful stone that helps you to release fear and anxiety and aids harmony and balance.
Lapis lazuli is a semi-precious stone associated with the third eye chakra. This crystal stone stands out in the world of gemstones with its deep sapphire blue color. It also contains prosperity and abundance qualities with its unique variations of gold and white specks, the good luck stones.
Obsidian is truth-enhancing. A strongly protective stone, it forms a shield against negativity. It blocks psychic attack and absorbs negative energies from the environment. Obsidian draws out mental stress and tension.
The pointed end of each of these crystal wands draws and channels energy inward or outward depending how you position the wand.
This single terminated crystal wands feels great to hold in your hand and are excellent piece for meditations, healing, Chakra balancing and grounding. grids and energy sessions.
Also looks great for home & office decor.
Product Features:
Top quality beautiful pack of 7 crystal wands, pointed & 6 faceted, about 60 - 80 mm (2.4 - 3.5") long.

7 crystal stones: 1) Rose quartz, 2) Clear quartz, 3) Amethyst, 4) Yellow Quartz, 5) Lapis lazuli, 6) Green fluorite, and 7) Black obsidian

100% natural and genuine. No any dyeing nor any chemical treatment.

Each and every wand is unique and is the ONLY one in the world.

This is the only set of 7 natural chakra stone wands on the market, You would't find any better set than this.
Reviews