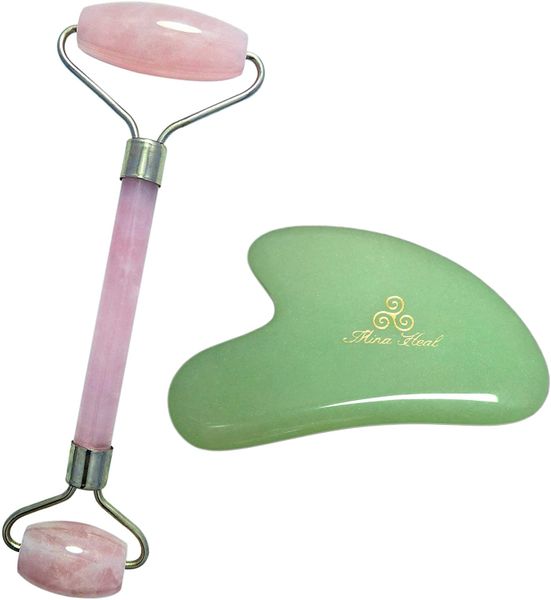 Facial Massagers
Mina Heal Gua Sha facial massagers are beautifully designed based on both experience over 2000+ years and modem ergonomics. 
Mina Heal rose quartz Gua Sha facial massagers are great tools to reduce puffiness and wrinkles.
There are cheaper products?
No, don't save a few dollars on your face, save your face with Mina Heal.
Product Features:
Rose quartz face roller and green jade gua sha set for facial massage, wrinkles removal, anti-aging, skin care, skin rejuvenation.

Premium quality from Mina Heal, the only set of this kind in the world.

Beautifully designed and combined set for better touching and fitting.

100% natural and genuine, without ANY chemical treatment nor dyeing.

Don't save a few dollars on cheap products for your face. Save your face with Mina Heal.
How to use:
Press gently the Gua Sha massager against your skin. Use the edges and points for face, arm and body skin to reduce wrinkles and bags under your eyes.
Use this fascinating healing rose quatz Gua Sha face massager today to reduce wrinkles and bags under your eyes.
Massage & healing, relaxation & beauty treatment, all with this intriguing beauty tool.
Benefits:
Scientific study has proven that this facial massage Gua Sha and roller can increase skin blood flow and improve vasodilation, widening of blood vessels. resulting in younger & tight skin.
Disclaimer: 
Study performed by Prof. Hayashi, published in Complementary Therapies in Medicine (Vol. 41, page 271- 276, 2018)
Mina Heal stands for quality & authenticity
Genuine and authentic rose quartz mined in Brazil

Superb workmanship

Manufacturer direct
Loved by thousands of women and many celebrities & influencers.
Use this natural and genuine rose quartz Gua Sha face massager to regain your health and tight skin, to reduce wrinkles and fine lines, to rejuvenate facial skin.
Health benefits using this facial Gua Sha massage tool:
Attain a brighter, radiant and healthier skin.

Cells are activated and face regains elasticity

Clearing clogged pores

Controls acne and pimples

Detoxifies skin

Enhances absorption ability for skin care and makeup products

Uplifts sagging skin to become suppler / firmer

Improve skin cells growth and renewal

Reduced insomnia

Iron out fine lines and wrinkles

Promotes a healthy and younger looking skin

Promotes blood circulation, activates energy
Reviews