Set of 3 Healing Stone Wands of 3 Crystals, Rose Quartz, Clear Quartz, Amethyst, Pointed & Faceted Prism Bars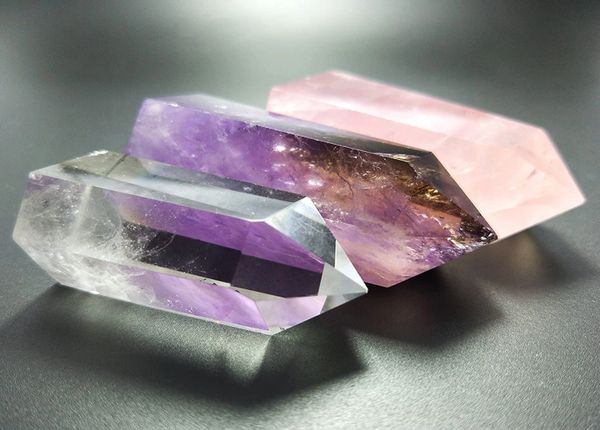 Set of 3 Healing Stone Wands of 3 Crystals, Rose Quartz, Clear Quartz, Amethyst, Pointed & Faceted Prism Bars
These are 100% natural and genuine healing crystal wands, faceted, with one end pointed and another end flattened.
Amethyst is a February birthstone and 6th anniversary gemstone. Amethyst is a birthstone for the zodiac signs of Virgo, Sagittarius, Capricorn, Aquarius and Pisces. Amethyst is a gemstone for the third eye Chakra and Crown Chakra.
The lovely rose quartz wand, with its gentle pink essence, is a stone of the heart. It carries a soft feminine energy of compassion and peace, tenderness and healing, nourishment and comfort. Rose quartz is the so-called Love Stone that opens the Heart Chakra to let love flow.
The clear quartz is a birthstone for all zodiac signs and is a gemstone for the Crown Chakra. Clear quartz has been shown to enhance and strengthen the aura and is often used to cleanse, open, activate, and align all of the Chakras.
The pointed end of each of these crystal wands draws and channels energy inward or outward depending how you position the wand.
This single terminated crystal wands feels great to hold in your hand and are excellent piece for meditations, healing, Chakra balancing and grounding. grids and energy sessions.
Also looks great for home & office decor.
Product Features:
Set of 3 pointed crystal wands of 3 different crystals: rose quartz, clear quartz & amethyst crystal, 6 faceted & one end terminated.

100% natural and genuine. No any dyeing nor any chemical treatment

Rose quartz is the Love Stone that opens the Heart Chakra to let love flow. Clear quartz is a gemstone for the Crown Chakra. Amethyst is a gemstone for the third eye Chakra and Crown Chakra

Each of the crystal wands is soothing to the eye, offers inexplicable joy to the beholder. It is a symbol of joy and cheerfulness

Each and every wand is unique and is the ONLY one in the world
Reviews