Mina Heal Obsidian Crystal Ball, 50 mm (2.0")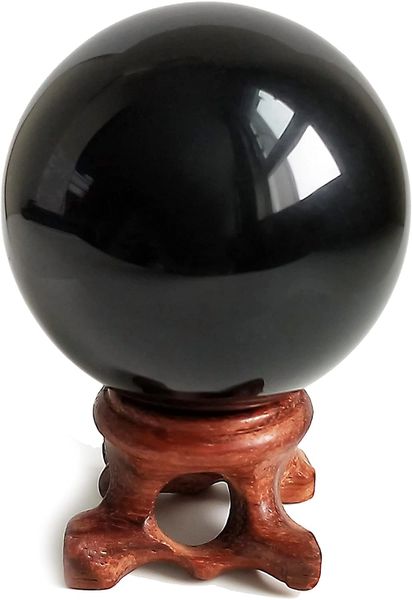 Mina Heal Obsidian Crystal Ball, 50 mm (2.0")
Natural and genuine black obsidian crystal sphere, 50 mm (2.0")  diameter. Excellent for fengshui, meditation, crystal healing, scrying, divination, scrying, and home decoration. 
Comes with a wooden stand (NOT plastic resin stand as from other sellers) for display and a beautiful carrying and storage purple velvet pouch.
Manufacturing: hand crafted and polished without using any chemical treatment or dyeing.
Black obsidian crystal ball, owing to its earth element, is considered to be very powerful in Feng shui, divination, crystal healing, etc. It helps in creating a balance in the space in which it is placed. The energy contained in an obsidian ball is clean and pure, thus it helps in providing many benefits.
Black obsidian balls were and still are used in various cultures for deep healing purposes, and for drawing in negative energy, thus for protection, and it can help in bringing positive energy to you.
Product Features: 
Natural and genuine black obsidian sphere /ball, 50 mm /2.0" diameter

Hand-made and hand-polished, without using any chemical treatments or dyeing

For healing meditation scrying mirror

Also good collectible and for deco

RISK FREE GUARANTEE: If you are not satisfied with your purchase, just return it for a full refund
Reviews