Rose Quartz Crystal Puffy Heart (Set of 3 Rose Quartz)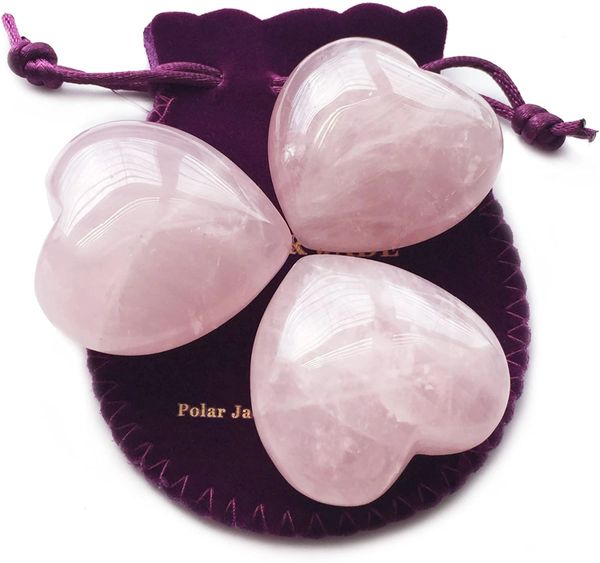 Rose Quartz Crystal Puffy Heart (Set of 3 Rose Quartz)
It is a authentic and genuine rose quartz puffy heart. It is about 45mm (1.8 inch), weights about 50 grams (1.8 ounces). Our rose quartz hearts are authentic and much larger than those from other sellers, which are often chemically treated or only 30mm or smaller
Great to hold in your palms
This puffy crystal heart is great to hold in your palms or carry in your pockets, It stores the energy of those who touch it, making it an excellent gift for loved ones who are far away.
Thoughtful gift
This puffy heart makes a thoughtful gift for wedding, birthday, valentines day, mother's day, Christmas, New Year, graduation, anniversary, and many other occasions, or as a beautiful congratulation present.
Everyone loves rose quartz heart.
Connecting your minds energy to your libido
As one of the most popular types of quartz crystals, rose quartz the so called Love Stone is often used to open energy from your Heart Chakra to your upper and lower Chakras, connecting your minds energy to your libido.
Rose quartz is also often used to help increase sexual pleasure and desire in women.
Mental effects
Rose quartz reduces tension, and induces love. Rose quartz calms the spirit allowing for closer emotional bonding.
Rose quartz allows you to open up to your partner and to forgive past transgressions.
Physical effects
Rose quartz helps with sexual imbalances and grief caused by sexual abuse, strengthens the heart and allows energy to flow through the heart chakra properly.
Other uses
Crystal healing & therapy

Meditation

Crystal massage

Worry stone / palm stone / pocket stone

Decoration
Product Features:
Hand crafted puffy hearts, set of 3, made of 100% natural and genuine rose quartz crystal, the pink Love Stone, without using any chemical treatment or dyeing. Natural and safe

About 45mm (about 1.8 inch), weights about 50 grams (about 1.8 ounces). Right size and weight for many applications. This size is much larger than products from other sellers, which are often 30mm or smaller

Rose quartz is a quartz crystal that derives its name from its lovely rose pink color. These crystals come in a range of beautiful shades of pink. It is known as the 'love stone' as the message it emits is the strong vibration of unconditional love, joy, warmth and healing

Each of the beautiful pink crystal rose quartz puffy hearts has a powerful energy that resonates within both the heart chakra and the higher heart chakra, or thymus chakra, the area related to compassion. Comes with a beautiful purple jewelry pouch

If you are not satisfied with your purchase, just return it for a full refund. No questions asked; No hassle
Reviews