3 Gemstones Yoni Jade Egg, Undrilled, Medium Size, Made of 100% Natural and Genuine Nephrite Jade, Rose Quartz and Black Obsidian, with User Instructions - YETS4548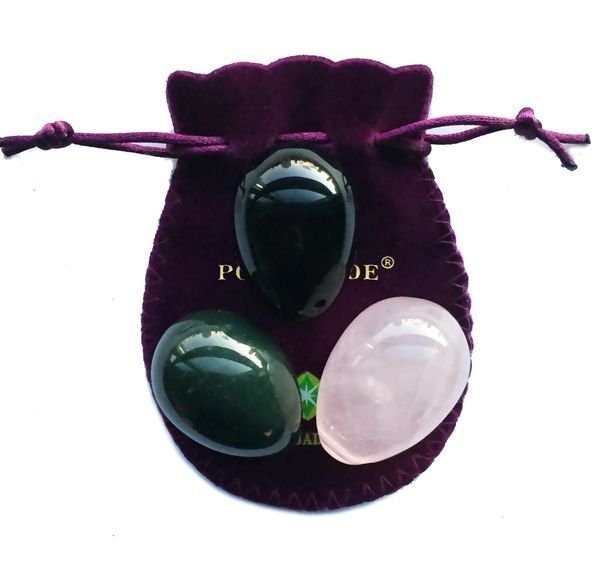 3 Gemstones Yoni Jade Egg, Undrilled, Medium Size, Made of 100% Natural and Genuine Nephrite Jade, Rose Quartz and Black Obsidian, with User Instructions - YETS4548
1) 3-piece set of yoni eggs of 3 gemstones: nephrite jade, rose quartz, and obsidian, the only unique 3-gemstone yoni egg set in the world.
2) All 3 eggs are medium size  (1.7x1.2 inch)  (43x30mm), all non drilled.
3) With similar size but the weight is different. Obsidian egg is about 46 grams, rose quartz is about 55 grams, nephrite jade is about 60 grams. You can select egg to practice for your mood and exercise level.
3) Manually carved and polished, with outstanding finishing.
4) Comes with user instructions, certificates of authenticity, and packing pouches. You have everything you need to practice jade egg exercisers and can start training your love muscles the same day when you receive this set.
5)  FREE shipping for US and Canada customers, taking only 3-5 days to deliver.

This  3-piece set yoni eggs is the ONLY set in the world that consists of 3 gemstones. With similar size, but different in weight, color and crystal healing properties, you can choose the egg to practice for your mood and exercise level.
Benefits of yoni eggs for you AND for him:

Strengthening vaginal muscles (love muscles), obtaining stronger orgasm for both you AND him.




Awakening your sexual energy, passion and libido.




With trained and toned love muscles and tightened vagina, your love muscles can better wrap and manipulate his shaft to help him with ejaculation control, to gain much stronger pleasure.




Tightening vagina for women after giving birth.




Counter stress urine incontinence with stronger pelvic floor muscles.

And many more benefits. Please Google "yoni eggs benefits".
Gemstones:
Nephrite jade, dark green to black, the heaviest, about 60 grams;
Rose quartz, pink, middle weight, about 55 grams;
Obsidian, black, the lightest, about 45 grams.

All 3 eggs are medium size.  However, because the eggs are manually carved and polished, and also because the hardness and roughness difference among the 3 gemstones, the shape and dimensions of the 3 eggs might be slightly different. This is the nature of manual making from different natural stones. 
Reasons of Recommendation:
3 gemstones in one set: nephrite jade, rose quartz and black obsidian. Unique and rare, Both functional yoni eggs set and beautiful art for decoration or display at your house.
All eggs are medium size but with different weight because of the stone density difference.  Medium size is the most popular size for all level of users. With same size, you can use your yoni muscles to feel the weight difference and manipulate the eggs, tone and train the sensetivity of your love muscles. This set be be used at ALL time for ALL levels and training stages, and can last a life time.
3 gemstones with different color, texture, shade and tone, you can choose the egg to practice based on your mood.

Value set, you save $39 with this set. 



Safe, reliable and TOP quality genuine jade eggs, not like those junk marble stone fake eggs on the market.
Please note rose quartz and obsidian are not as hard and strong as nephrite jade. If  rose quartz egg or obsidian egg is bumped against nephrite jade, permanent scratch may be left on the surface of the rose quartz egg or obsidian egg so please store the eggs with care.


Disclaimer:
1) This yoni eggs is for intimate use. No return is accepted for obvious reasons. However if the eggs have defects due to our workmanship issues such as chipped hole, please contact us. We would be happy to send you replacement.
2) This yoni egg is for kegel exercise, not a substitute for medical treatment. Please discontinue use of this product and consult your physician if you feel any discomfort when use this product.
3) Please note that all of our nephrite jade eggs are made of 100% natural and genuine nephrite jade without any chemical treatment or dyeing. Some eggs may have, more or less, visible natural blemishes. Such natural blemishes are NOT defects but unique characteristics of natural gemstone. Each egg is different from the others in terms of color, tone, shade, etc., each egg is unique and is the only one in the world.

Don't wear fake jade eggs made of marble stones, wear genuine 100% natural gemstone eggs.

Note:

Rose quartz egg often does not have a continuous look, but shows areas of streaks or cloudy patches (internal cracks) within the stone, or looks somewhat milky due to minute inclusions of foreign substances within the stone. These are NOT defects. Such rose quartz egg is perfectly OK to use.  




If you boil your rose quartz egg, please put your rose quartz into cold water then heat it. Putting rose quartz egg into very hot water may cause cracks on the egg.
Reviews